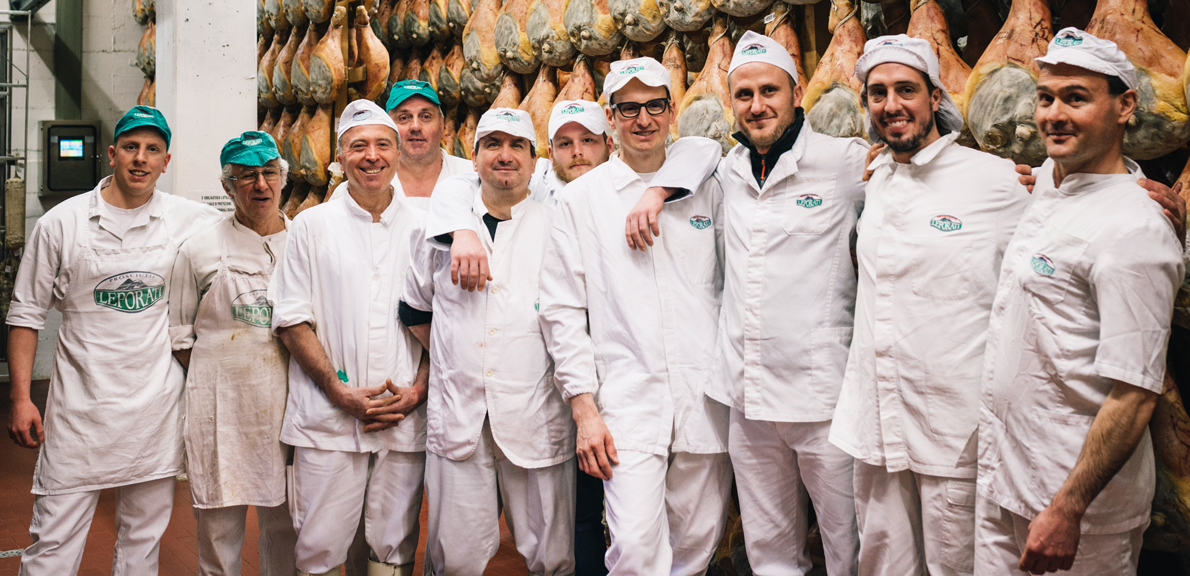 The passion to be a butcher is something that Nello Leporati has been cultivating since his youth. He used to go from village to village slaughtering pigs, which once were homebred, and prepare the various cuts of meat, particularly hams.
In 1969, he decided to move to the hill near Langhirano to make the dream of a lifetime come true: start maturation of the king of dry-cured meats, the ham.
His entire family joined him: his wife and daughters, the sons-in-law and recently also the three grandchildren have joined the company, who continue the activity with the same passion passed on to them by their grandfather.
The Leporati plant is plunged in the green valley crossed by the river Parma, south of the town of Langhirano.
The ecosystem and microclimate are ideal for maturing the hams that bear on the rind the hot-iron Leporati brand as a guarantee of their excellent quality.
At the beginning, the plant capacity was about 35,000 pieces per year, then in 1976 he decided to increase production capacity and brought in some processing machines. However, they have not replaced and are never going to replace the human know-how and expertise of this delicate process.
Current production capacity is 150,000 pieces/year, but production stops at 75,000 pieces per year, which makes it possible to follow more thoroughly all the stages of production. From the very beginning, Mr. Nello's objective has been to produce high quality dry-cured hams, always processed following the traditional method.
The plant is constantly up to date with Italian, European and international standards; and through the years has obtained many certifications: ISO 9001:2008; ISO 14001:2004 and EMAS Certification; BRC and IFS Certification and many more.
The "Leporati Gran Riserva" dry-cured ham was granted product certification and product certifications in accordance with the applicable requirements of BRC and IFS standards. Being EMAS registered is proof of the attention paid towards the protection of the environment.