Baby spinach salad with Ouverture Parma Ham, grilled pineapple, toasted pie nuts and fresh goat cheese with paprika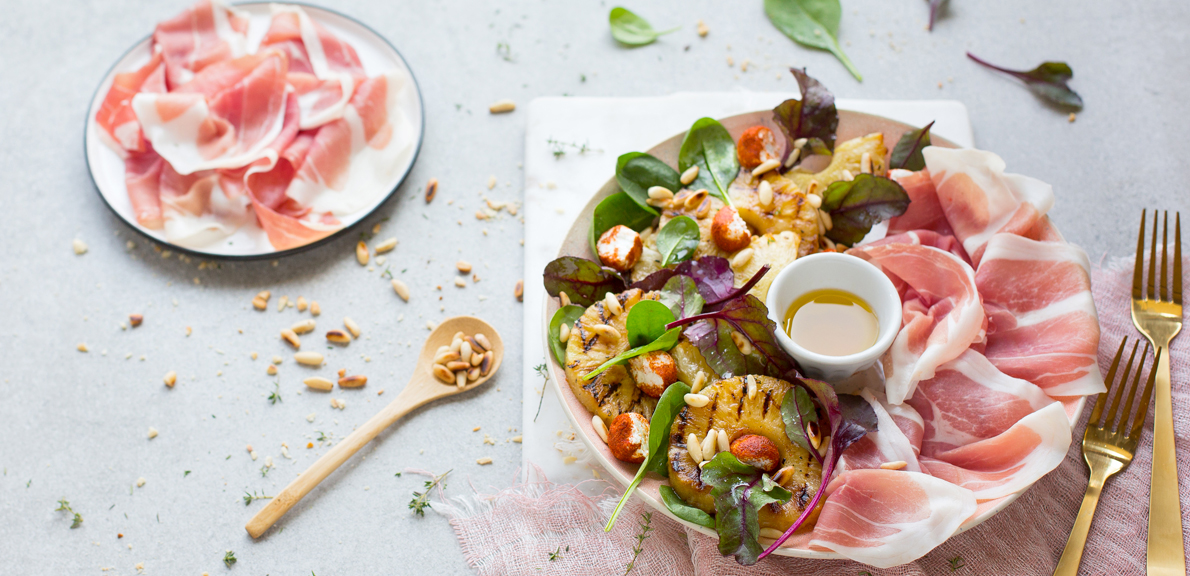 Ingredients for 4 servings:
1 pineapple
350 g green and red baby spinach
120 g fresh soft goat cheese
20 slices of Leporati Ouverture Parma Ham
1 lime
pine nuts
extra virgin olive oil
maple honey
thyme
sweet paprika
salt and pepper
Preparation:
Start with carefully washing the baby spinach and clean the pineapple: cut off top and bottom, then, while keeping the pineapple in a vertical position on a cutting board, cut off the skin. With the tip of a potato peeler or a paring knife eliminate the brown pedicles still left and using a corer, remove the pinapples' hard middle part. Cut in round slices 1 cm thick. Heat up a griddle and as soon as it ready, grill the pineapple slices for about ten minutes, brush lightly with oil. In the meantime, add a pinch of salt and pepper with some lime juice in a bowl, add a teaspoon of honey, 8 tablespoons of oil and beat the mixture with a fork. While preparing the salad, leave the vinaigrette inside the fridge. Toast the pie nuts in a frying pan, then cut in half the grilled pineapple slices and top them with the fresh goat cheese with sweet paprika. Assemble all the ingredients in the plates: the red and green baby spinach mixed with the grilled pineapple slices, the fresh goat cheese with paprika, the toasted pine nuts and a few leaves of fresh thyme with the slices of Leporati Ouverture Parma Ham and a separate little bowl with the vinaigrette to dress the salad to your liking.