Cauliflower and potato veluté with caramelized onions, sautéed mushrooms and crunchy Ouverture Parma Ham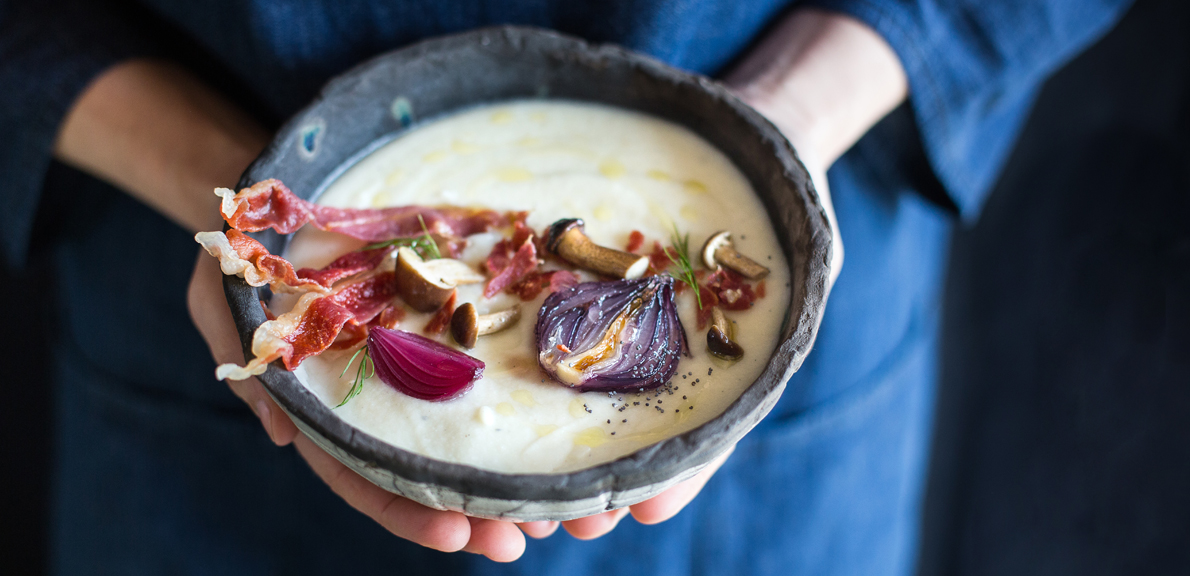 Ingredients for 6 servings:
750 ml vegetable stock
1 cauliflower
3 white potatoes
1 small shallot
1 garlic clove
2 Tropea onions
60 g small mixed type mushrooms (poplar and champignon or also small porcini mushrooms)
extra virgin olive oil
butter
12 slices of Leporati Ouverture Parma Ham
red wine vinegar
fresh rosemary
caster sugar
salt and pepper
Preparation:
Wash well all the vegetables then chop the shallot, peel and dice the potatoes, then divide the cauliflower in small pieces. Melt the butter in a large pot and as soon as it is hot, add the shallot and let soften for about ten minutes on medium heat. Place the potatoes and cauliflower in the pot: let cook for some minutes. Add the vegetable stock, salt and pepper and bring to a boil. Let the soup cook slowly for at least 30-40 minutes. In the meantime, caramelize the onions: remove the outer leaves and cut them in half. Boil in water for 5-10 minutes in a small pot then drain gently. Melt 20 g of butter with 3 tablespoons of white sugar in a frying pan: add the onions and let cook, turn them over many times with a spoon and fork, making sure they hold their shape. As the cooking liquid caramelizes, douse with a small amount of red wine vinegar and as soon as it thickens remove the onions and keep them warm. Prepare also the mushrooms: clean, wash and cut in half. Heat up a non-stick pan with a ribbon of oil, a knob of butter and a clove of garlic peeled and cut in half: add the mushrooms, a pinch of salt and pepper, and let cook, having care to keep them whole and remain crunchy. In the meantime, place the slices of Leporati Ouverture Parma Ham in a 180° heated oven, place them flat in a baking sheet layered with baking paper until crispy. Blend the soup with a minipimer until creamy and shiny in texture. Fix salt and pepper and finish cooking. Serve the cauliflower velouté hot in large bowls, if you'd like, also with some toasted cereal bread croutons, and decorate with half of the caramelized onion, sprinkle with some mushrooms sautéed with parsley and garlic, a couple of crunchy chips of Leporati Ouverture Parma Ham, a ribbon of raw olive oil, a pinch of pepper and some rosemary leaves.