Tapas with Leporati Dry-cured Ham, cream of avocado, cheeses, fruit, radishes and sprouts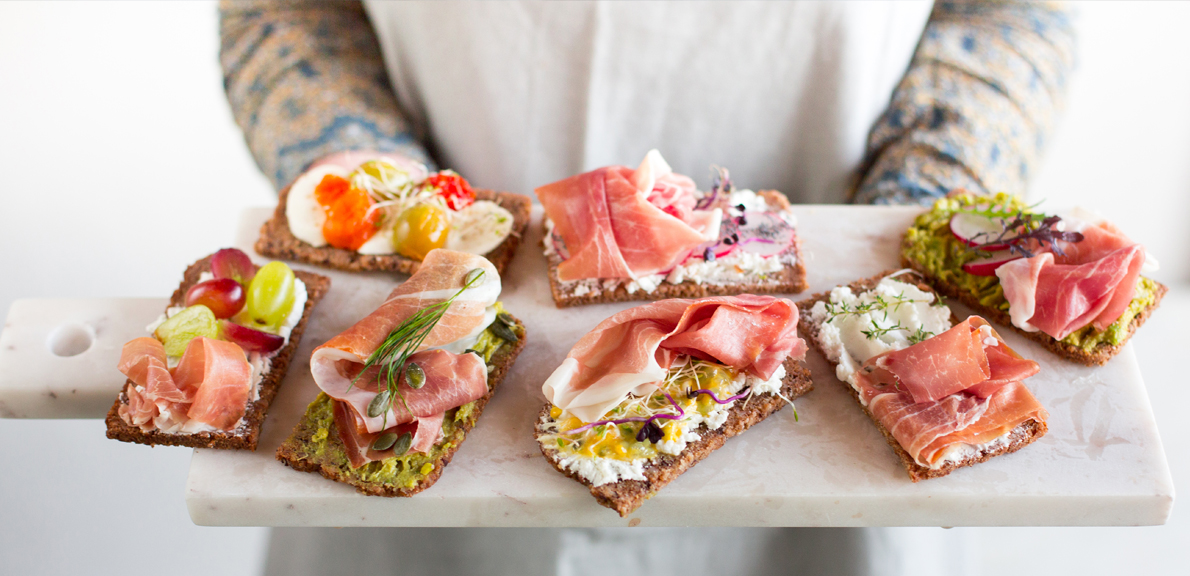 Ingredients for 4-6 servings:
8 slices of rye black bread with seeds
sliced Leporati dry-cured ham
1 cow's milk mozzarella
12 datterino tomatoes
4 radishes
1 pear
1 avocado
1 lime
1 maracuja fruit
table grape
100 g spreadable goat cheese
1 bunch of arugula
mixed sprouts
agretti (Salsola soda)
maple honey
oregano
fresh thyme
pumpkin seeds
sugar
extra virgin olive oil
salt and pepper
Preparation:
Wash the pear, radishes, arugula, agretti, thyme and tomatoes. Bake the tomatoes confit: cut them in half by the length and place them cut-side up on a baking sheet layered with oven paper. Add evenly a mixture of extra virgin olive oil with some honey, oregano, salt, pepper and dust the tomatoes with very little sugar. Cook in the oven at 140° C for 2 hours or so. Prepare a cream of avocados: split them in half, remove the pit and using a spoon scoop out the flesh and place it in the minipimer bowl. Afterwards, add some oil and the lemon juice, mix everything until obtaining a smooth and shiny cream that you will set aside to rest in the fridge. As soon as the tomatoes are ready, remove them from the oven and let them become lukewarm. Prepare now the canapés: toast the bread, cut in half and spread the fillings in combination with the slices of the Leporati Dry-cured Ham: avocado cream with thinly sliced ravishes, arugula and a pinch of pepper or alternatively, avocado cream, Leporati Dry-cured Ham, agretti and a few pumpkin seed. Other combinations recommended are: cream of goat cheese, ravishes and sprouts or cream of goat cheese, maracuja, Leporati Dry-cured Ham and sprouts; mozzarella, tomatoes confit, sprouts with a ribbon of olive oil and pepper or goat cheese, eggs and Leporati dry-cured ham, and also avocado cream, pears, thyme and Leporati dry-cured ham. Excellent tapas for the aperitif.